Våren är kommen [Spring Is Here]
– 1997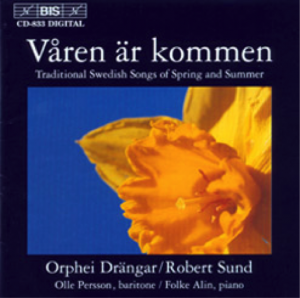 The tradition of welcoming the arrival of spring with male-voice choral singing harks back to the early 19th century. This is also a period that saw the start of the tradition of wooing women by singing serenades. Spring songs and serenades have been an important feature of the repertoire since OD was established in 1853, and on this recording OD has assembled the best-known pieces. Also included is choral lyricism from the first decades of the 20th century, by Wikander, Peterson-Berger, Grieg, and Nielsen, for example, as well as songs by Evert Taube and Olle Adolphson. The baritone soloist is Olle Persson.
REVIEWS
"This is a recording that can 'quicken the life spirits,' as someone put it in the 19th century. Robert Sund is a skillful leader and arranger who has taken over after Eric Ericson." ÖSTGÖTA CORRESPONDENTEN APRIL 11, 1997, HANS WENNERING 
"And they have to be performed by OD. No other choir comes close to OD's manly, forceful attack in this patriotic, tradition-rich nostalgia, which brings to mind tie and tails, chokecherry, and sweet liqueur, as well as a missed exam or two. […] And in a hymn-like 'Kristallen den fina' Robert Sund and the choir have captured an ephemeral pathos that reaches beyond university nostalgia." UPSALA NYA TIDNING APRIL 22, 1997, ULF GUSTAVSSON
"Most are of Swedish and many of Scandinavian origin, and what male-voice choir could possibly do it better than OD – Orphei Drängar? They clearly justify their reputation as a choir that is internationally acclaimed. […] All thirty pieces are gems, and they do indeed awaken feelings of springtime, especially if the performance is as refined and inspired as here." NORRA SKÅNE MAY 3, 1997, STEN BÖCKMANN
"For years people have been wishing for a recording of OD with all the beloved spring songs. It's finally here, and it clearly meets our expectations. […] Orphei Drängar, the Uppsala-based male voice choir, is an elite ensemble, and from the first to the last note on this CD, it breathes stability and canniness under the sure direction of Robert Sund. The songs are sung with superb phrasing and nuances; the interpretations are convincing. The large body of sound does justice to both the powerful and the languorously gentle in, for instance, 'Kom, du ljuva hjärtevän.'" KRISTIANSTADSBLADET MAY 13, 1997, LENA EKMAN FRISK 
"As usual when OD is involved, suppleness and elegance have been balanced perfectly. And Robert Sund on the podium fills the phrasing with bite and contagious jollity." KÖRSÅNG NO. 2 1997, GÖRAN PERSSON 
"It could hardly sound any better than this." BÖCKER & AV-MEDIA 1997:14 
"So let's sing the praises of Lovely May, Hulda Spring, and jubilant happy larks. Or better: Listen to the world's most eminent male-voice choir as they do so. Its success is assured!" GÖTEBORGS-POSTEN APRIL 29, 1997
PREVIEW THE RECORD (THE CLIPS ARE ONLY 30 SECONDS LONG DUE TO COPYRIGHT)
Said about OD

With OD behind me, I felt unstoppable.

You become euphoric when you see them, and then they start to sing. That is when you feel true bliss!

Santtu-Matias Rouvali

Chief conductor of the Gothenburg Symphony Orchestra

"They really got to the depths of Sibelius music. I cannot think of any other choir to perform Sibelius with."

Orphei Drängar is an explosion of intelligence, feeling, intensity and precision.

Malena Ernman

Mezzo-soprano

OD is a national pride of Sweden with the best male choir sound in the whole world!

Esa-Pekka Salonen

Conductor and composer

OD possesses a combination of power, energy, and culture. Joy of discovery combined with professional technical and musical prowess.

Anne Sofie von Otter

Opera Soprano

It was one of my most enjoyable professional experiences to work with this collection of super nice, super good, super good-looking gents.

OD is like a dream (with a whole lot of tail coats in it)!