OD sings Alfvén
– 1993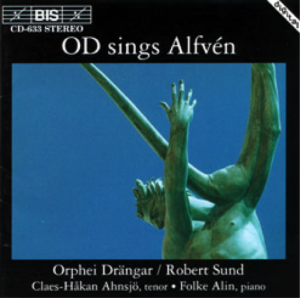 Hugo Alfvén was OD's conductor between 1910 and 1947. When he assumed the post, he saw a need to renew the male-voice choir repertoire and therefore started to compose music for male-voice choir. Alfvén was a traditionalist, but his compositions placed entirely new demands on timbre and precision. Moreover, he arranged a number of folksongs for choir, and he personally felt that his greatest contribution to music was the discovery and perpetuation of Swedish melodic treasures. 
On this record, OD sings pieces by Alfvén that are still part of its repertoire, not out of tradition, but because of their musical qualities. We also hear tenor Claes-Håkan Ahnsjö perform some of Alfvén's most popular art songs.
REVIEWS
"They fascinate us from the very first tone with an almost shocking and unbelievably pure pitch." RECORD GEIJUTSU (JAPAN) OCTOBER 1994
"Even now it collects reviews as the world's finest male-voice choir on account of its refined tonal balance, precision of ensemble and impeccable intonation. […] Their singing is quite remarkable: wide in dynamic range and cultured in tonal blend – in terms of male choir singing, the equivalent of the Berlin Philharmonic. It is superbly recorded too". THE PENGUIN GUIDE TO COMPACT DISCS AND CASSETTES 1994
"The choral sound shines like newly polished church silver. […] If you've been to Sweden on vacation, a recording by OD is probably your best souvenir." MAGASINET FÖR KLASSISK MUSIK 1994:1, MS
"This recording is a must for male-voice choir buffs. […] The choir is excellent, full-blooded and lyrical, with proper tenors having unforced top B flats and real basses with low E flats!" MIDLANDS NOW! FEBRUARY 1994 
"The Orphei Drängar is Sweden's leading male choir and one of the world's greatest. […] The singing is virtuoso in caliber and has some spectacular dynamic effects." AMERICAN RECORD GUIDE 57:3 1994, BAUMAN
"The interpretations are well thought out, and the performances are extremely well tailored, though there is no lack of the great dynamics and intensive temperament the songs require. […] …the choir's sound is pregnant, massive, and supremely clear. A must recording for all lovers of Alfvén's choral and vocal music, and for Uppsala residents who like male-voice choir music in general and OD in particular the recording is virtually obligatory …" UPPSALA NYA TIDNING APRIL 27, 1994, ANDERS BRAGSJÖ
"Where the choir's beautiful sound, living dynamics, bounce, and phrasing prowess can be admired in more than twenty miniatures by one of the giants among Swedish choral giants. […] But the record is a gem for all friends of traditional male-voice choir repertoire. It can be recommended both as an example and as enjoyable relaxation." HUFVUDSTADSBLADET APRIL 4, 1994, LENA VON BONSDORFF
"The choir is a wonder of beautiful voices, virtuoso technique, precision, and musical spontaneity – all the time enhanced by the unbroken tradition that Robert Sund is proving to be the right man to perpetuate." BIBLIOTEKSTJÄNST (BTJ) 1994
PREVIEW THE RECORD (THE CLIPS ARE ONLY 30 SECONDS LONG DUE TO COPYRIGHT)
Said about OD

With OD behind me, I felt unstoppable.

You become euphoric when you see them, and then they start to sing. That is when you feel true bliss!

Santtu-Matias Rouvali

Chief conductor of the Gothenburg Symphony Orchestra

"They really got to the depths of Sibelius music. I cannot think of any other choir to perform Sibelius with."

Orphei Drängar is an explosion of intelligence, feeling, intensity and precision.

Malena Ernman

Mezzo-soprano

OD is a national pride of Sweden with the best male choir sound in the whole world!

Esa-Pekka Salonen

Conductor and composer

OD possesses a combination of power, energy, and culture. Joy of discovery combined with professional technical and musical prowess.

Anne Sofie von Otter

Opera Soprano

It was one of my most enjoyable professional experiences to work with this collection of super nice, super good, super good-looking gents.

OD is like a dream (with a whole lot of tail coats in it)!