The Singing Apes and Other Songs of Love and War
– 1996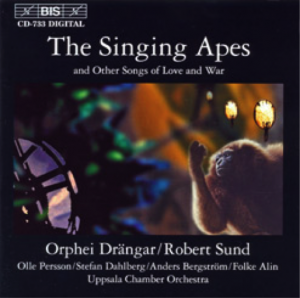 Behind the title are compositions that in one way or another deal with war and love. The title track 'The Singing Apes of Khao Yai' is a fascinatingly powerful piece by the Swedish composer Jan Sandström, who constitutes the record's Swedish feature. We also encounter music by composers such as Pizetti, Britten, Barber, and Schönberg. Moreover, there is Kurt Weill's gripping 'Das Berliner Requiem' with lyrics by Berthold Brecht. Soloists are Olle Persson, baritone, Anders Bergström, baritone, and Stefan Dahlberg, tenor.
Reviews
"OD has splendid intonation and a creamy blend. OD's 'Singing Apes' contains splendid recordings of some of the greatest favorites in the Male Choral repertoire. Barber's 'Stop Watch and an Ordinance Map' is crisp, chilling, and has never been recorded in a performance that is nearly as compelling as the one contained on this disc. On the opposite end of the spectrum are the irresistibly creamy smooth 'Turtle Dove' and absolutely lovely recordings of male choral classics by Britten, Schubert and Weill. Everything is sung with superb intonation and a gorgeous blend. OD is one of the world's great men's choruses and their 'Singing Apes' is a recording that no lover of male choral music should be without. Bravo to Orphei Drängar." AMAZON.COM 25/7 1999
"But of course the introductory song's violent frenzy and rhythmical play with onomatopoetic sounds establishes a musical niche of its own and is an enormously attractive feature of the record as a whole. […] No doubt everyone will find something in the rich musical material on the record that appeals to them. OD is in very fine form in this recording. Robert Sund should be highly satisfied.[…] A CD to be warmly recommended, perhaps quite simply one OD's most important." UPPSALA NYA TIDNING DEC. 21, 1996, ANDERS BRAGSJÖ
"The recording provides ample opportunity to be mesmerized by OD's masculine power and distinctly precise sound field under the direction of Robert Sund – that special OD sound that has few rivals, if any." UPPSALA NYA TIDNING DEC. 18, 1996, ULF GUSTAVSSON
"No, this magnificent male-voice choir is one of the best in the world, and this is proven not least by their new recording, the one with the title 'The Singing Apes and Other Songs of Love and War.' […] all of it sung with overwhelming precision and musicianship." BÖCKER & AV-MEDIA 1997:4, STIG JACOBSSON
"Orphei Drängar is impressive not only in its tonal power but also in its colorful and well-balanced choral sound. This is something we simply take for granted in the choir's music-making under the direction of Robert Sund." NORRKÖPINGS TIDNINGAR MARCH 25, 1997, MICHAEL BRUZE
PREVIEW THE RECORD (THE CLIPS ARE ONLY 30 SECONDS LONG DUE TO COPYRIGHT)
Said about OD

With OD behind me, I felt unstoppable.

You become euphoric when you see them, and then they start to sing. That is when you feel true bliss!

Santtu-Matias Rouvali

Chief conductor of the Gothenburg Symphony Orchestra

"They really got to the depths of Sibelius music. I cannot think of any other choir to perform Sibelius with."

Orphei Drängar is an explosion of intelligence, feeling, intensity and precision.

Malena Ernman

Mezzo-soprano

OD is a national pride of Sweden with the best male choir sound in the whole world!

Esa-Pekka Salonen

Conductor and composer

OD possesses a combination of power, energy, and culture. Joy of discovery combined with professional technical and musical prowess.

Anne Sofie von Otter

Opera Soprano

It was one of my most enjoyable professional experiences to work with this collection of super nice, super good, super good-looking gents.

OD is like a dream (with a whole lot of tail coats in it)!