Schubert Male Choruses
– 2000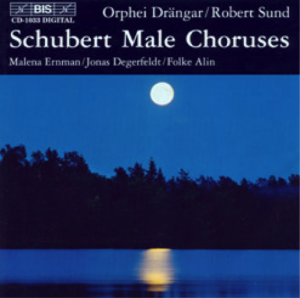 Franz Schubert is best known as a composer of symphonies and art songs, but he also wrote more than a hundred songs for male-voice choir. This recording contains a selection from this relatively unknown musical treasure; music that sounds typically Schubertian – simple and beautiful – but without being simplistic or banal. Featured soloists are Jonas Degerfeldt, tenor, and Malena Ernman, alto.
REVIEWS
"Of the hundreds of songs written by Franz Schubert, those for solo voice are best known today. He also wrote over one hundred songs for men's choir. Occasionally, they were performed by quartets in private settings and a few of them were published during Schubert's lifetime. But it was not until nearly forty years after his death that people began to realize that this music was out there. In Vienna in 1866 a volume of his choruses was published by Johann Herbeck, who was a champion of Schubert's unknown music. These songs vary in style from piano or string accompaniment to a cappella. Occasionally, there is a soloist, as in "Standchen," for male choir, alto solo and piano. For this recording Orphei Drangar, conducted by Robert Sund is joined by alto Malena Ernman, tenor Jonas Degerfeldt, pianist Folke Alin and the Swedish Radio Symphony Orchestra and the Royal Stockholm Philharmonic Orchestra. The always brilliant OD sings these rarely performed works with beauty and grace". THE AMERICAN MUSIC SITE SINGERS.COM 
"The present CD presents a highly representative selection of Schubert's works for male-voice choir. With its homogeneity and expressiveness, the brilliantly arranged choir succeeds again and again in ravishing its audience both a cappella and with instrumental accompaniment. A must for every male-voice choir fan." WWW.AMAZON.DE OCTOBER 16, 2000
"And the magnificent sonority and dramatic subtlety with which they sing Schubert is truly impressive—without sentimentality, with splendid volume and lucid interpretive gravity." FONO FORUM (GERMANY), NO. 10, 2000
"With the very special sound created by a male-voice choir on the order of OD, you are swathed in a healing cotton dressing of harmonious tones." ENKÖPINGS-POSTEN APRIL 18, 2000, GUNILLA EDSTRÖM 
"A neglected musical treasure worth digging more out of in new collections. Preferably sung by OD, but this glorious music cannot be performed better than this." GÖTEBORS-POSTEN APRIL 26, 2000 PGB 
"Music to listen to analytically or to serve as a beautiful background at home. Recommended." UPPSALA NYA TIDNING JULY 4, 2000, ANDERS BRAGSJÖ
"It's extremely pure, clear, refined. […] The entire production breathes a sober elegance, perhaps in line with the genre image of Schubert's often salon-directed production. It is lovely, balanced, and enjoyable throughout." KÖRSÅNG NO. 2 2000 
"A genre that he enjoyed working with but that is not especially au courant or noticed today is the male-voice choir. It's therefore especially interesting that the incomparable Orphei Drängar is releasing a 75-minute CD devoted entirely to Schubert's male-voice choir music. […] Drängarna sing with voices of gold." BÖCKER & AV-MEDIA SEPT. 25, 2000, STIG JACOBSSON 
"But these extremely pleasing recordings of 15 choral pieces will be welcomed by Schubert buffs." SVENSKA DAGBLADET SEPT. 10, 2000, LARS HEDBLAD
"After hearing this CD, you'll wonder why more composers didn't write for male chorus – it's such a wonderful sound! And the Swedish male choir Orphei Drängar is one of the best in the world. […] The recording is bright and alive, perfectly suiting the musical material." CHAPTERS.CA SEPT. 2000, RICK PHILLIPS 
"The rich, warm, well-blended sound of this choir, and the clear, vibrant recording will have you wondering why there aren't more male choirs in existence." CHAPTERS.CA BEST OF 2000, RICK PHILLIPS
"It's plain and simple – this CD contains some of the most beautiful music ever written for male chorus and is performed by one of the finest male choruses ever assembled. Blend and intonation are exquisite." WWW.AMAZON.COM, APRIL 9, 2001
"This is a record we've been waiting for a long time – the world's best male-voice choir with music by the supreme master of romantic male-quartet singing. […] Rarely, if ever, has a male-voice choir, indeed any choir, sounded so good in this repertoire." DAGENS INDUSTRI, AUGUST 5, 2000
PREVIEW THE RECORD (THE CLIPS ARE ONLY 30 SECONDS LONG DUE TO COPYRIGHT)
Said about OD

With OD behind me, I felt unstoppable.

You become euphoric when you see them, and then they start to sing. That is when you feel true bliss!

Santtu-Matias Rouvali

Chief conductor of the Gothenburg Symphony Orchestra

"They really got to the depths of Sibelius music. I cannot think of any other choir to perform Sibelius with."

Orphei Drängar is an explosion of intelligence, feeling, intensity and precision.

Malena Ernman

Mezzo-soprano

OD is a national pride of Sweden with the best male choir sound in the whole world!

Esa-Pekka Salonen

Conductor and composer

OD possesses a combination of power, energy, and culture. Joy of discovery combined with professional technical and musical prowess.

Anne Sofie von Otter

Opera Soprano

It was one of my most enjoyable professional experiences to work with this collection of super nice, super good, super good-looking gents.

OD is like a dream (with a whole lot of tail coats in it)!