Diamonds
– 2003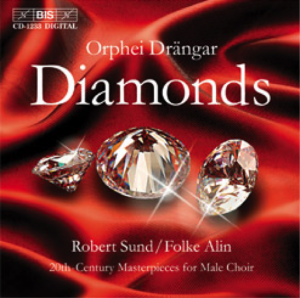 This record contains a selection of the foremost music for male-voice choir composed over the last 100 years: music by the most important composers of the 20th century such as Richard Strauss and Francis Poulenc jostles with that of lesser-known composers, such as the American Randall Thompson and the Japanese Michio Mamiya. If there is one record that lovers of choral music absolutely must have, it is this one.
REVIEWS
"The popularity of the male-voice choir has dwindled during the past century. More common in the Romantic era, repertoire written specifically for men's choruses is significantly less as well. On the CD Diamonds, Orphei Drangar, led by Robert Sund and Folke Alin, sings 20th century a cappella pieces written specifically for male choir. The pieces chosen are certainly gems in the repertoire. Many are by French composers such as Francis Poulenc, Darius Milhaud and Camille Saint-Saens, who's Saltarelle is quite fun. The group reaches far to the east in Michio Mamiya's "Composition for Chorus No.6″ which is based on Japanese folk music. The Anders Hillborg piece, was originally written for a a mixed choir, but was commissioned to write a version for Eric Ericcson and the Orphei Dranger. This phenomenal group sparkles on this recording." SINGERS.COM
PREVIEW THE RECORD (THE CLIPS ARE ONLY 30 SECONDS LONG DUE TO COPYRIGHT)
Said about OD

With OD behind me, I felt unstoppable.

You become euphoric when you see them, and then they start to sing. That is when you feel true bliss!

Santtu-Matias Rouvali

Chief conductor of the Gothenburg Symphony Orchestra

"They really got to the depths of Sibelius music. I cannot think of any other choir to perform Sibelius with."

Orphei Drängar is an explosion of intelligence, feeling, intensity and precision.

Malena Ernman

Mezzo-soprano

OD is a national pride of Sweden with the best male choir sound in the whole world!

Esa-Pekka Salonen

Conductor and composer

OD possesses a combination of power, energy, and culture. Joy of discovery combined with professional technical and musical prowess.

Anne Sofie von Otter

Opera Soprano

It was one of my most enjoyable professional experiences to work with this collection of super nice, super good, super good-looking gents.

OD is like a dream (with a whole lot of tail coats in it)!