Christmas Songs
– 2009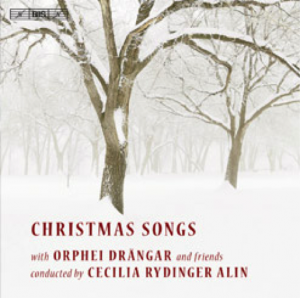 The choir's first recording with director Cecilia Rydinger Alin contains some of the most beloved Swedish Christmas songs, but also songs from other countries. Here the influence of Swedish folk music is felt in the singular Staffansvisa (Staffan's Song); Christmas music of the Russian Orthodox Church jostles with American evergreens; and traditional English carols encounter both Swedish and foreign compositions from our own day. The soprano soloist is Ida Falk Winland. The recording also features the Linné Brass Quartet and friends. 
REVIEWS
"My favorite among traditional Swedish Christmas recordings has long been "Aftonpsalm och julesång" (Evening Psalms and Christmas Songs)(Proprius) with Anders Öhrwall, the Adolf Fredrik Bach Choir, and Håkan Hagegård as soloist. Now it has competition in the form of "Christmas songs," where the male-voice choir Orphei Drängar, under the direction of Cecilia Rydinger Alin, seduces us with a choral sound that is infinitely rich in nuance and of consummate international class. Further feminine friction is provided by soprano Ida Falk Winland, who in pieces like "Koppången" and "Stille Nacht" infuses the music with passionate fervor. Overall I'm taken aback by how this "Christmas songs" dares to challenge the folksy warmth and coziness of the Christmas repertoire – without abandoning the traditional foundations. This is Christmas music as we recognize it, but as great art." MARTIN NYSTRÖM, DAGENS NYHETER DEC. 7, 2009
"Play the first track! An incredibly lovely rendering of Pererik Moraeus' Koppången in Robert Sund's arrangement. You sit riveted and can't resist listening to everything that follows all at one sitting, Nielsen, Lidholm, Sweelinck, Gruber, Mendelssohn, Gardner and a dozen other songs. Most of the program cannot be found on other so-called Christmas records. This is in other words the world's best male-voice choral singing, the most exquisite style and taste, fine solo singing, and a number of glorious musicians accompanying it all. This CD with OD, vintage 2009, under their new conductor, is one of the very best I have ever heard in a genre that is not always all that rewarding." PG BERGFORS, GÖTEBORGSPOSTEN DEC. 1, 2009
"This is the record for a joyous Christmas. The people behind 'Christmas Songs' wanted to have a little of everything, and such albums don't usually turn out very well. But here everything is done with such good taste and emotion that you have to say 'Ho-Ho' and get ready to have your Santa Claus cap blown off. Lena Willemark hit the nail on the head when she described Orphei Drängar's 'incredible power and tender poetry.' The sound of this large male-voice choir is fantastic, and its well-balanced singing also includes a good dose of passion. Pomposity can be pompous, when it feels right, but not in a square way, but rather with elastic gentleness. Conductor Cecilia Rydinger Alin brings out the qualities in a mischievous Staffan song, 'Jul, jul, strålande jul' and 'Stilla natt,' English carols, Sweelinck's 400-year-old 'Hodie Christus natus est,' and two of the finest American Christmas bon-bons. Soprano Ida Falk Winland spreads radiance all around and holds up 'He Shall Feed His Flock' from Händel's Messiah on her own over neat, soulful brass and Ingvar Lidholm's folk-music inspired 'Madonnans vaggvisa.' Best track: 'Forunderligt at sige.'" ALEXANDER AGRELL, SYDSVENSKA DAGBLADET DEC. 2, 2009
"Orphei Drängar sings Christmas songs together with Ida Falk Winland, soprano, the Linné Brass Quintet, and members of Uppsala Chamber Orchestra, Cecilia Rydinger Alin, conducting. What should a really good Christmas record be like? To start with, it should be artistically consummate: Orphei Drängar's new 'Christmas Songs' is exactly that. It should be Christmasy, stewarding traditions: OD meets this requirement with Franz Gruber's 'Stille nacht' and Michael Praetorius' 'Det är en ros utsprungen,' among others. But at the same time, not too Christmasy and tradition-bound: and this record fits the bill with Nikolai Golovanov's 'Dostóyno Yest' and Eric Whitacre's 'Lux Aurumque.' Toss in a few English carols, Swedish folksongs, and American Christmas evergreens. Artistically consummate, occasionally truly intriguing arrangements, Chistmasy, but not too much so. OD's new one is extremely close to the perfect Christmas record." MIKAEL BENGTSSON, NORRA VÄSTERBOTTEN DEC. 2, 2009
"Uppsala male-voice choir Orphei Drängar, with its new conductor Cecilia Rydinger-Alin, serves up a uniquely varied Christmas record with lots of brass and enjoyable percussion arrangements. Ida Falk Winland is the soloist in some of the songs, and her clear voice fits in well with the choir's controlled idiom. Sometimes it becomes a tad cool, but in the English-language repertoire, the singers let in more warmth. The record contains a varied assortment of composers such as Händel, Carl Nielsen, and Mel Tormé, along with Eric Whitacre's acclaimed 'Lux Aurumque.'" BO LÖFVENDAL, SVENSKA DAGBLADET DEC. 2, 2009
"THE VIRTUALLY UNIQUE LEVEL OF SWEDISH AMATEUR CHOIRS IS DEMONSTRATED ONCE AGAIN BY ORPHEI DRÄNGAR'S CHRISTMAS CD. ON ITS NEW CD, THIS MALE-VOICE CHOIR, LOOSELY ASSOCIATED WITH UPPSALA UNIVERSITY, SINGS A COLLECTION OF SWEDISH AND INTERNATIONAL CHRISTMAS SONGS UNDER THE DIRECTION OF THE ACCLAIMED CHOIRMASTER CECILIA RYDINGER ALIN – AND THE RESULT IS IMPRESSIVE, WITH A BALANCED AND DIFFERENTIATED SOUND. THE CHOIR CAN BOAST AN IMPRESSIVE LIST OF CONDUCTORS AND HAS BEEN FORMED BY SOME OF THE MOST HIGHLY REGARDED SWEDISH CHORAL EDUCATORS. HUGO ALFVÉN AND THE LEGENDARY ERIC ERICSON ARE AMONG THE PERSONALITIES THAT HAVE LEFT THEIR MARK ON THE CHOIR IN A DECISIVE WAY. ON THEIR NEW CD, THE 80 GENTLEMEN IN THE PRESENT-DAY CHOIR DELIVER THE HIGHEST QUALITY THROUGHOUT, EVINCING AN EXTREMELY CULTIVATED CHORAL SOUND. THE PARTS ARE WELL BALANCED, ALL THE INTONATION IS SPOT ON, AND EVEN IN THE FASTER PIECES, SUCH AS 'GOD REST YOU MERRY GENTLEMEN,' THEY SING WITH GREAT RHYTHMIC PRECISION. THE OVERALL IMPRESSION IS ONE OF FULLNESS AND RESPLENDENT SONORITY. CECILIA RYDINGER ALIN GETS THE CHOIR TO ARTICULATE CLEARLY SO THE LYRICS CAN BE UNDERSTOOD. THE CHOICE OF REPERTOIRE IS TRULY VARIED IN TERMS OF THE TYPES OF PIECES SELECTED FOR RECORDING, BUT AS A WHOLE, IT IS CONVINCING. SWEDISH CLASSICS LIKE 'JUL, JUL, STRÅLANDE JUL' AND 'STAFFANSVISA FRÅN ORUST" ARE HEARD ALONGSIDE MODERN WORKS SUCH AS ERIC WHITACRE'S 'LUX AURUMQUE' AND 'KOPPÅNGEN' BY PERERIK MORAEUS, AND AMERICAN HITS LIKE 'HAVE YOURSELF A MERRY LITTLE CHRISTMAS' AND MEL TORMÉ'S 'THE CHRISTMAS SONG.' IT'S A COLORFUL CONGLOMERATE, WITH SOMETHING FOR EVERYONE, BUT ALSO WITH SOME THAT SOME PEOPLE WILL NO DOUBT WANT TO SKIP. THE GUEST ARTIST, THE YOUNG SWEDISH SOPRANO IDA FALK WINLAND, SINGS SOME SONGS TOGETHER WITH THE CHOIR BUT ALSO SOLOS ON HÄNDEL'S 'HE SHALL FEED HIS FLOCK' FROM MESSIAH. THIS LOOSENS UP THE PROGRAM OF THE CD A BIT. WINLAND IS A TRUE FIND, WITH A VOICE THAT IMPRESSES WITH ITS PURITY AND BRILLIANCE. HER TIMBRE HAS A CERTAIN SHARPNESS IN ITS CLARITY, BUT WINLAND KNOWS HOW TO VIRTUOSICALLY TURN THIS INTO BRIGHT RADIANCE. UNFORTUNATELY, HER GERMAN PRONUNCIATION IN 'STILLE NACHT' AND 'ES IST EIN ROS ENTSPRUNGEN' IS EXTREMELY UNCLEAR, BUT THAT IS THE ONLY CRITICISM, AND IT WILL NO DOUBT BOTHER ONLY GERMAN LISTENERS. ALSO FEATURED ARE MUSICIANS FROM THE LINNÉ BRASS QUINTET AND THE UPPSALA CHAMBER ORCHESTRA, WHO PROVIDE A FESTIVE BACKGROUND TO SOME OF THE SONGS, WITH THEIR TYMPANI AND TRUMPETS. ALL IN ALL, ONE MIGHT HAVE LIKED TO HAVE A COUPLE MORE SWEDISH OR SCANDINAVIAN CHRISTMAS SONGS AND FEWER AMERICAN ONES, BUT THE SELECTION AT HAND HOLDS UP VERY WELL." CHRISTIANE BAYER, KLASSIK.COM, DEC. 8, 2009
PREVIEW THE RECORD (THE CLIPS ARE ONLY 30 SECONDS LONG DUE TO COPYRIGHT)
Said about OD

With OD behind me, I felt unstoppable.

You become euphoric when you see them, and then they start to sing. That is when you feel true bliss!

Santtu-Matias Rouvali

Chief conductor of the Gothenburg Symphony Orchestra

"They really got to the depths of Sibelius music. I cannot think of any other choir to perform Sibelius with."

Orphei Drängar is an explosion of intelligence, feeling, intensity and precision.

Malena Ernman

Mezzo-soprano

OD is a national pride of Sweden with the best male choir sound in the whole world!

Esa-Pekka Salonen

Conductor and composer

OD possesses a combination of power, energy, and culture. Joy of discovery combined with professional technical and musical prowess.

Anne Sofie von Otter

Opera Soprano

It was one of my most enjoyable professional experiences to work with this collection of super nice, super good, super good-looking gents.

OD is like a dream (with a whole lot of tail coats in it)!