Capricer med [Caprices with] Orphei Drängar, Vol. 5
– 1987-1990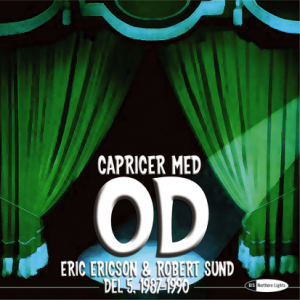 A collection of nuggets from the fifth round of Caprices, with guests Margareta Krook, Toots Thielemans, Robert Broberg, Gösta Ekman, and Barbara Hendricks singing everything from children's songs to rock. Conductors: Eric Ericson and Robert Sund.
Reviews
"More silliness from Sweden's all-male choir Orphei Drangar (OD), yearly live concerts that were founded in 1962, the ones here taking place from 1987 to 1990, that featured "Caprices," or whims and improvisations in concerts (see review for "Capricer Med OD, Del 1964-69"). 18 songs, some in Swedish, some in English; some favorites are "Mozart's Pianokonsert nr 21," "Bluesette," "Teach Me Tiger," "Sudda, sudda," "Yuppie Rap," "At The Hop/Rock Around the Clock" and "I Could Have Danced All Night." OK, sometimes we wish we could understand Swedish and see what's happening when the audience cracks up, but there's still a lot to get a laugh from and enjoy here".
PREVIEW THE RECORD (THE CLIPS ARE ONLY 30 SECONDS LONG DUE TO COPYRIGHT)
Said about OD

With OD behind me, I felt unstoppable.

You become euphoric when you see them, and then they start to sing. That is when you feel true bliss!

Santtu-Matias Rouvali

Chief conductor of the Gothenburg Symphony Orchestra

"They really got to the depths of Sibelius music. I cannot think of any other choir to perform Sibelius with."

Orphei Drängar is an explosion of intelligence, feeling, intensity and precision.

Malena Ernman

Mezzo-soprano

OD is a national pride of Sweden with the best male choir sound in the whole world!

Esa-Pekka Salonen

Conductor and composer

OD possesses a combination of power, energy, and culture. Joy of discovery combined with professional technical and musical prowess.

Anne Sofie von Otter

Opera Soprano

It was one of my most enjoyable professional experiences to work with this collection of super nice, super good, super good-looking gents.

OD is like a dream (with a whole lot of tail coats in it)!